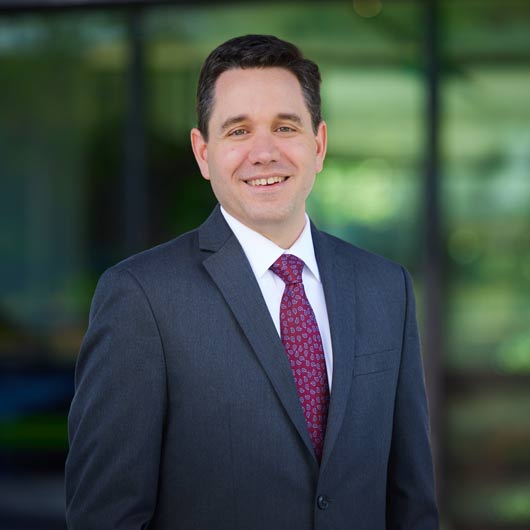 Jamie S. Kilberg
Attorney
About
Jamie S. Kilberg has more than two decades of trial and litigation experience, representing clients in high-profile criminal and civil matters at all levels of federal and state courts. He was trained at some of the nation's top law firms on the East and West coasts and brings that depth of knowledge and experience to Kauffman Kilberg LLC.

Jamie has a multi-disciplinary practice, focused on employment litigation and advice, federal and white-collar criminal defense, and complex civil litigation. He has represented employers and executives in defending discrimination and retaliation claims, negotiating severance agreements, resolving contract disputes, enforcing or defending restrictive covenants, and developing and defending workplace policy and procedures. He has also represented employers and individuals being investigated for or charged with antitrust violations, mail fraud, wire fraud, securities fraud, money laundering, and environmental crimes. He has counseled clients on compliance with the Foreign Corrupt Practices Act, and he has represented individuals, former government officials, foreign officials, and corporations at both the trial and appellate levels in connection with a variety of other complex or high-profile civil litigation matters.

Before co-founding Kauffman Kilberg LLC in 2013, Jamie was an Associate and Of Counsel at Stoel Rives LLP in Portland (2010-2013), and an Associate at Baker Botts L.L.P. in Washington, D.C. (2002-2010). He also served for two years as a judicial clerk for the Honorable Chief Judge Ernest C. Torres, U.S. District Court for the District of Rhode Island (2000-2002).
Professional Activities
Executive Committee, Oregon State Bar Criminal Law Section, 2012-2020 (Chair, 2020; Secretary, 2013-2019)
Steering Committee, Oregon State Bar Lawyers for Veterans, 2012-2013
Owen M. Panner American Inn of Court
Multnomah Bar Association
National Association of Criminal Defense Lawyers
Oregon Criminal Defense Lawyers Association
Oregon Association of Defense Counsel
Civic Activities
Board of Directors, Kinship House, 2012-2018
Lawyers' Committee for the Mid-Atlantic Region, Obama for America, 2007-2008
Volunteer Voter Protection Attorney, Obama for America, 2008
Delegate, Alexandria City Democratic Caucus, 2008
Delegate, Virginia 8th Congressional District Democratic Convention, 2008
Delegate, Virginia State Democratic Convention, 2008
Professional Recognition
Baker Botts LLP 2009 Pro Bono Award
Baker Botts LLP 2008 Pro Bono Award
Presentations
Presenter/Moderator, "Know Your Rights: Protests in Oregon," Owen M. Panner American Inn of Court, March 2017
"FCPA: Recent Developments and Compliance Recommendations," Oregon State Bar Securities Regulation Section, June 2013
Panelist, "Effective Internal Investigations," Association of Federal Defense Attorneys Webinar, March 2013
Panelist, "Employment Agreements From Soup to Nuts," 11th Annual Labor and Employment Law Conference, SHRM Oregon State Council, February 2013
Panelist, "Dealing with Crime in the Workplace," 10th Annual Labor and Employment Law Conference, SHRM Oregon State Council, March 2012
"To Arbitrate or Not to Arbitrate? Or, Why You Probably Want Arbitration Agreements with Your Employees!," Stoel Rives LLP, January 2012 (with Amy Joseph Pedersen)
Panelist, "Liberty and Justice for All," Washington State University, April 2011
Publications
Stoel Rives World of Employment: Circuit Split Remains As To Possible Employer Remedies Under Computer Fraud and Abuse Act (CFAA), Jan. 2013
Corporate Compliance Update: Top 5 Takeaways From the DOJ and SEC's Recently Published Resource Guide to the U.S. Foreign Corrupt Practices Act, Dec. 2012
Stoel Rives World of Employment: Allergy to Perfume Not a Disability, Says Ohio Federal Court, Nov. 2012
Corporate Compliance Update: U.K. Ministry of Justice Issues Revised Policies Regarding Bribery Prosecutions, Oct. 2012
Stoel Rives World of Employment: NLRB Puts Kibosh on Some Employer Social Media Policies, Oct. 2012
"Pending EEOC Investigation Does Not Toll the Time to File Suit After BOLI Issues Right-to-Sue Letter," The Verdict, Winter 2012
"The Three-Year Statute of Limitations for Penalty Wages Runs From the End of the 30-Day Penalty Period," The Verdict, Winter 2012
Stoel Rives Litigation Law Alert: Anti-Corruption Update: What Are You Doing to Get Ready for July 1, 2011?, May 2011
Stoel Rives Litigation Law Alert: Department of Justice's New Oil and Gas Price Fraud Working Group Begins its Work, May 2011
Stoel Rives Litigation Law Alert: Court Finds That Cooperating Company's Disclosure of Privileged Documents to Government Does Not Waive Privilege, but Fairness Nevertheless Requires Disclosure to Defendants, Feb. 2011
Stoel Rives Litigation Law Alert: British Authorities Delay Implementation of UK Bribery Act, Feb. 2011
Stoel Rives Litigation Law Alert: Congress and DOJ Move to Restore Breadth of Honest Services Fraud Statute, Oct. 2010
Stoel Rives Litigation Law Alert: Ninth Circuit Adopts "Implied False Certification" Theory in False Claims Act Cases, Sept. 2010
Stoel Rives Litigation Law Alert: Second Circuit Extends Apprendi to Require Jury Determination of Facts Supporting Increased Criminal Fines Under Alternative Fines Act, Sept. 2010
Baker Botts White Collar Update: Answers and More Questions on the DOJ'S New Policy on Prosecution of Corporations, Sept. 2008
"Neutral and Indirect Aid: Designing a Constitutional School Voucher Program Under the Supreme Court's Accommodationist Jurisprudence," Georgetown Law Journal, 2000
"Influences on the Jury," 28th Annual Review of Criminal Procedure, Georgetown Law Journal, 1999
Representative Experience
Since 1994
Representative Employment Law Experience
Provided in-house counsel services to multi-state dental service organization, advising on HR issues and vendor contracts, and managing ongoing litigation and claims.
Successful trial defense of marine repair company against allegations of workers' compensation retaliation.
Successful summary judgment motion for employer facing retaliation claims.
Negotiated severance packages for numerous executives and other high-level employees.
Successful trial defense of health care provider against claims by union that employer acted in bad faith in formalizing negotiated collective bargaining agreement.
Represent private and public companies and individuals regarding non-competition and non-solicitation agreements.
Represent employers in defending alleged whistle-blower retaliation claims and discrimination claims.
Assist employers in investigating criminal conduct of employees, including embezzlement and theft.
Defended employer in wage and hour class action.
Representative Criminal Defense Experience
Public Corruption
Represented higher education system in connection with Department of Justice criminal and civil investigations into allegedly questionable granting of alternative energy tax credits.
Environmental
Represented companies in connection with state and federal investigations of alleged federal Clean Water Act and state water pollution violations stemming from construction activities, wastewater management practices, and hazardous-waste management practices.
Environmental
Successfully persuaded government not to prosecute major timber company in connection with multiple federal criminal trespass allegations for destruction of hundreds of trees on U.S. Forest Service property.
FCPA
Provided Foreign Corrupt Practices Act and U.K. Bribery Act compliance training and guidance to Oregon-based military contractor and multiple technology companies.
Public Corruption
Represented winner of state energy contract in connection with public-corruption investigation into whether State agency misused its power for political reasons.
Corporate Internal Investigations
Conducted numerous internal investigations following allegations or revelations of criminal activity inside companies.
Accounting Fraud
Member of team responsible for successful post-indictment defense of former CEO of publicly traded company charged with accounting fraud and money laundering conspiracy, culminating in negotiation of deferred-prosecution agreement on eve of anticipated four-month trial.
Antitrust
Successfully defended major military IT-support provider in 8-year grand jury investigation involving allegations of collusion and price-fixing under the Sherman Antitrust Act, after which government ultimately decided not to prosecute.
Fraud and Money Laundering
Favorable negotiation of multi-district cooperation agreements for rural telephone company executive charged with conspiracy to commit mail fraud, wire fraud and money laundering, in connection with on-going organized-crime investigations in New York and Missouri.
Murder
Pro bono appeal of first-degree murder conviction in New Jersey state court.
Indigent Criminal Defense
Represented numerous indigent criminal defendants in federal court relating to narcotics, securities fraud, government contract fraud, bank fraud, identity theft, bank robbery, and firearms allegations and investigations.
Representative Business and Complex Litigation
Successful defense of multi-million-dollar claims brought against top aid to former Governor of Oregon, alleging collusion in an effort to get the state to abandon the Cover Oregon health insurance exchange.
Assisted healthcare provider in claims against the State of Oregon for breaches of massive, multi-million-dollar contracts to provide healthcare coverage to Oregon's vulnerable populations.
Defended multi-state law firm against allegations that its debtors' rights practice violated Oregon's debt managements service providers act.
Successful defense of former Deputy Attorney General of the United States against constitutional tort claims arising from detention and removal of alleged al Qaeda member from the United States to Syria. Plaintiff's petition for certiorari was denied by the U.S. Supreme Court.
Successful defense of foreign royal family members against claims they provided material support to terrorists. Plaintiffs' petition for certiorari was denied by the U.S. Supreme Court.
Successful trial defense and argument before the Supreme Court of Delaware of civil fraud and breach-of-fiduciary-duty claims in multimillion-dollar telecommunications dispute.
Successful resolution of multiple lawsuits across the country alleging fraud and negligence in the procurement of property and general liability insurance policies for multi-family dwelling units.
Represented public and closely held corporations in disputes with current and former shareholders and executives.